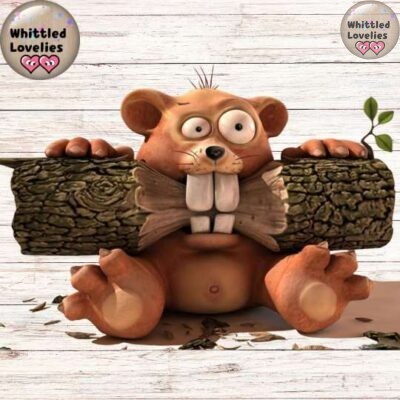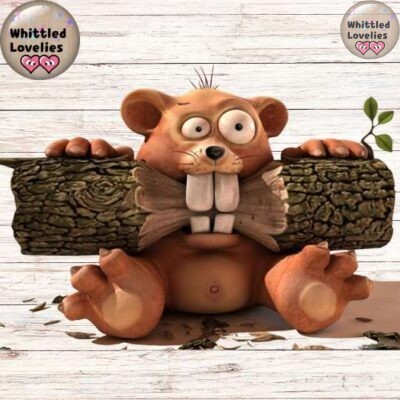 The Best Knives for Woodcarving
Published December 17, 2022 – Reading Time: 16 minutes
Hi guys how are you doing? A warm welcome to new readers! Today let's talk about a topic that is always hot in the whittling environment, namely what are the best knives for wood carving.
By a fortunate astral conjunction, we are also still in time to get an idea and maybe ask Santa for a nice new knife! 🤩🤣🤣
I had previously published an article on how to choose one's knife. I had drawn on the expertise of Vladimir of Home Wood Spirit, here is the link to read it. But now the time has come to give my impression as well!
The beginnings
When I began this wonderful journey into the world of woodcarving I was armed with a paper cutter, the classic retractable blade cutter. Aside from the danger, it is an experience I would not wish on anyone!
The only positive factor is that the cutter has a very thin blade, but it very easily loses its sharpening edge or breaks. But the main negative thing is that it is not created to have enough strength to withstand the force one has to apply to cleave wood. Neither is its blade or even the plastic handle.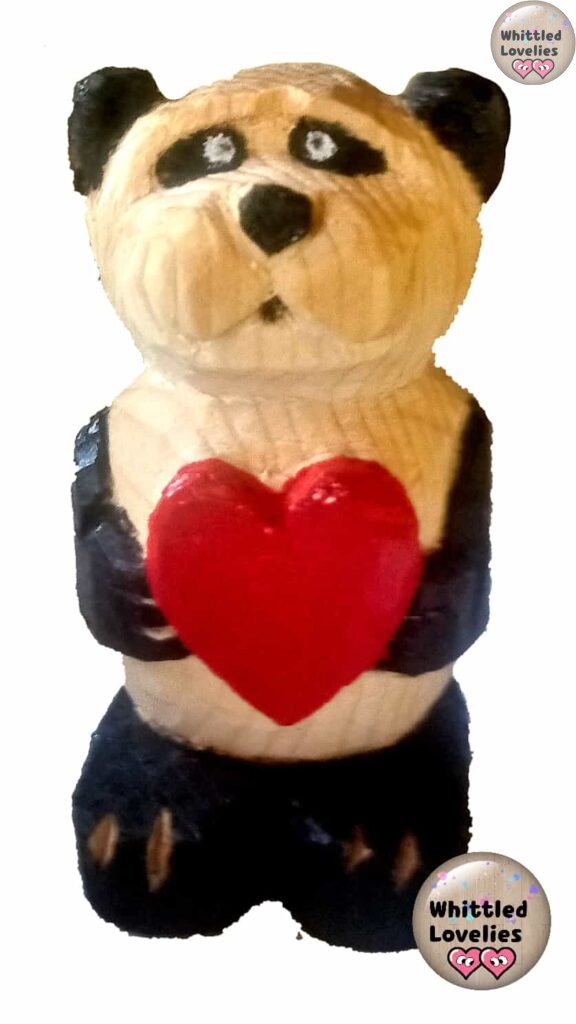 I immediately realized that I could not continue on this path unless I equipped myself with a good tool. I only realized this, though, when I went from watching video tutorials to deciding to try it. I had to figure out if it was a feasible thing for me, or something to keep as a treat only to watch others do.
I produced my first object worthy of "value" despite the makeshift means of the moment. All I had was a tutorial, a rectangle of douglas fir, very old, dry, outdoor-treated, and a paper cutter. When I got my Panda in my hands I decided to switch to a real woodcarving knife.
Stubai Knives (Austria)
I was in those days taking my first steps into the world of carving. One of my admitted faults is that I am impatient and did not give myself time to inform properly. I just thought of the simplest thing, open the Amazon app and type in, "wood carving knives."
I thus ordered myself a Stubai No. 510501:
I remember that I couldn't live waiting the few days until it was delivered. When it arrived in its plastic case I was amazed that it had a very long handle, a remarkable 20 cm!
You may wonder why I chose this brand. Actually I would like to emphasize that it was nothing but a forced choice. It sounds crazy but, at least in the Italian marketplace, it was the only brand you could buy, you could only choose certain shapes and sizes of the blade.
I immediately tried to use it and you cannot imagine my bitter disappointment in discovering that, for me, it is a useless knife. First of all a senseless length of handle that makes it just uncomfortable, not particularly ergonomic to grip either. But for me the main problem is with the blade.
Despite being claimed to have a superior quality steel blade and very easy to hold the edge I just find that it has a thick blade with a really cheap sharpening. Sometimes I wonder how people can exist (and I have even talked to them so they do exist!) who can rate it a good knife. I honestly regretted the cutter.
Further sharpening was to no avail. It is stiff and thick. The only thing that cannot be disputed is the shape of the blade. The straight blade, to me, is good for almost all carving work, from paring even to producing small cuts, admittedly not too detailed.
Cutter kit
Extremely disappointed, given also the not-so-gift cost of about 25 euros, I convince myself that then a cutter with a metal body, perhaps with the possibility of having an extensive blade change, might be for me.
So I order a kit for, it seems to me, more or less 25 euros:
Of course the pen handle is not the best for certain kinds of work, such as image stripping. But the kit also includes a slightly plumper blade holder that you can use well.
The fact then, of having 26 blades available is a great advantage. You can change them depending on what you need to do and thus cover the whole range of uses. For example, the crescent blade was fantastic in helping me make a rounded-shaped lighthouse very quickly.
In my opinion, the thing that really good woodcarving knives should have is a thin blade. Those on a cutter are far too thin, thus excessively easy to break. Hence the need to have a knife that combines multiple factors:
A thin, yet cut-resistant blade even in the hardest woods
a blade capable of not easily losing its edge
a handle no wider than the palm size
An ergonomic handle to prevent hand fatigue
M-Stein Knives (Slovakia)
Last Christmas I had the great fortune to receive a set of M-Stein knives. They are not too famous knives as they are handcrafted. They have changed my life! Really practical and with excellent sharpness, I have done almost all my recent work with them.
This is model N2:
I like it very much! The thing that impressed me the most is the handle. While it is not particularly ergonomic, it is made of unlacquered wood and pleasantly absorbs moisture from the hand even during the trickiest moments. Of course, knives don't stay clean for long! 🤣🤣🤣
The blade is strong but thin, it is quite flexible and versatile. Always also consider what you need the knife for. I make small objects of only a few inches, so I need to have precision and safe cuts.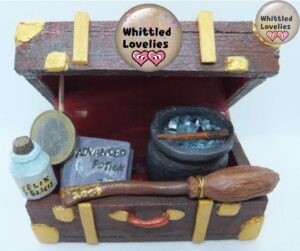 Perhaps, however, this is now a necessary digression. It might just emerge from the article that "I know" and you rely and choose knives more on my suggestions than on what you need them for.
What would you like to start carving?
It is critical that you are clear about what kind of carving you will want to go for. I had made an interesting tutorial, go and review it, this might put you on the right track as to what kind of work you are oriented toward.
It is clear that if you buy my favorite knife set and your aim is to try to make spoons, you will be tremendously disappointed as the very shape of the blade is definitely not suitable for this kind of work.
Every job has its own techniques, and every job has its ideal knives. For example, if you have a band saw, or scroll saw, you will not have much need for roughing knives. Most of that work is done by the saw, and you can devote yourself immediately to shape and detail.

There are jobs that must be done almost exclusively through gouges. Others that are rich in detail and it is highly recommended to have at least a couple of different blade knives. Still others, such as fan-carving that need knives designed specifically for the more detailed work.
In general, the straight-bladed knife is the most classic and the one that lends itself to the most uses. Then it is clear, the more serious the commitment becomes, the more manual dexterity is acquired. Consequently, the need to rely on more tools and more knives increases.
Then it should always be kept in mind that, as I always say, you have to start somewhere. Don't wrap your head around it, surely the one you are going to choose today will be your first knife. This is already a subtext… of many others! 😉
Get experience!
You need the practice to find out what you don't like and what you do like. Thus you will move more and more toward the perfect carving knife. But never forget, that it must be perfect for you. Not for me, not for great artists, not for your idols, but for you! The knife, like your choice, is an extremely personal thing.
There are people who will tell you that they only carve with pocket knives, and they also do wonderful work. I have tried it, and now I know I could never produce anything worthwhile. I recognize its usefulness of always having it in my pocket ready for anything, but I find it inconvenient as hell. Working with it for a couple of hours I had a wrecked hand.
After the M-Stein knives, I also had the pleasure of trying the very famous Flexcut. I sometimes smile at the thought of an absolute beginner starting out with a Flexcut, a Drake, an Occ or the unmatched Helvie. These are all famous brands of top-of-the-line knives.
In my opinion starting directly from them is a waste, you still won't know whether what you are going to try will really be an important thing in your life, or one hobby of many. And secondly by starting from the top you are not leaving yourself room for experiencing the difficulty.
It sounds like an absurd suggestion but as in all things if you climb from the bottom the beauty is to enjoy the road. To change knives is to feel the difference when it is time to feel it. If I had had a Flexcut when I tried to make my first Panda I would have felt I was dishonoring that knife.
Instead by trying, by making mistakes, by refining, you will come to feel when a knife is really a top of the line. But remember that the knife is an aid, certainly a fundamental and necessary tool, but what also counts is the gavage.
What will get you from rough work to truly sophisticated work is your experience. Likewise, it is your experience that will harness the full value of a good knife!
Flexcut Knives (U.S.A.)
As I mentioned, I had the honor of trying a Flexcut, KN13 detailing knife:
It is unmatched by anything I have tried to date. Blade slices through the woods I most love to use- basswood, birch, poplar, fir, pine-with impressive simplicity and precision.
That blade is razor-sharp, thin, extremely reliable and durable. Handle is absolutely ergonomic, although at times I regret the absorbing power of M-Stein. With this knife I did entirely this project of which I am very proud: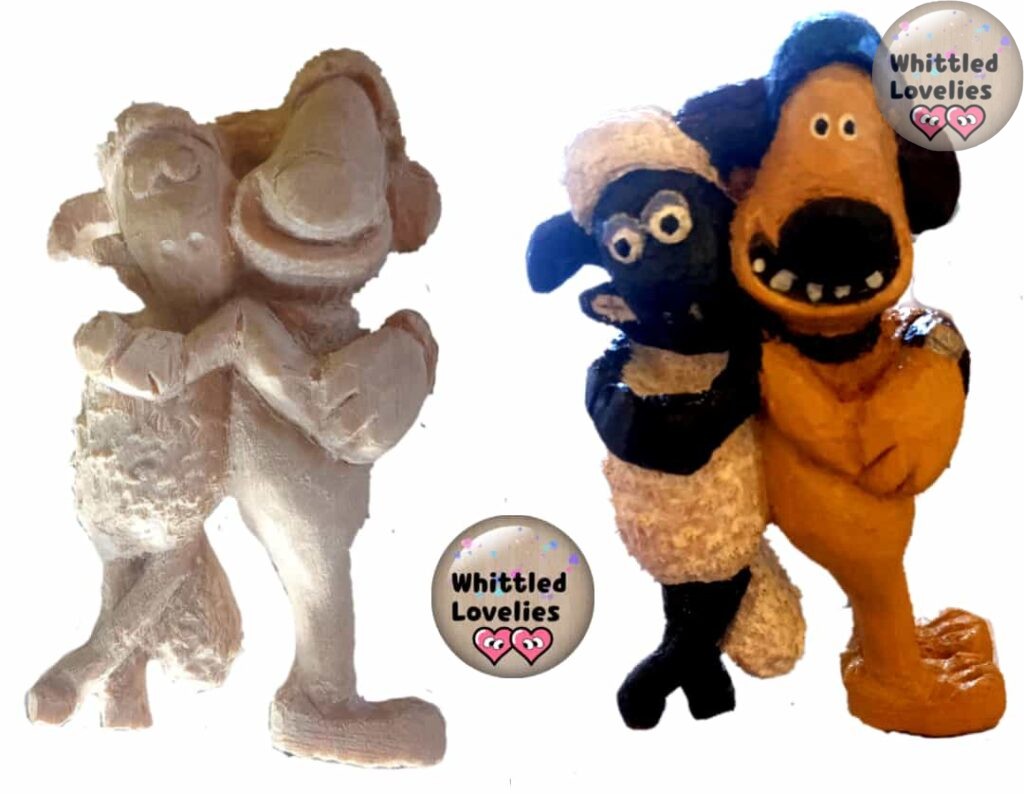 With the knives I had, I couldn't have done these details, these difficult cuts, because I would like to emphasize that both figures come from one piece, they are not assembled. This is thanks to a knife that is a marvel, but that was suitable for this project!
This is a detail-friendly knife, great for carving out the expressions of a face, the wrinkles around the eyes, anything even a few millimeters in size. Although it can do this it is not the best knife to use to thin a figure.
Conclusions
If you go forward in your quest to become a woodcarver, I assure you that you will be well equipped. You will eventually have quite a fleet of knives and you will find yourself always wanting more knives of blade shapes that you have not yet experimented with. They are all useful!
What also needs to be said is that normally, at least in my case, unless it's a very intricate project, I try to stay within the 2-knife limit. A let's say multipurpose knife, with which I can thin the figure well and also do some details. Plus a knife that I use only for smaller details, because of its sharp blade or its very small size.
If you look closely even your idols, when they do their tutorials, they almost never use more than two knives. Remember this too when you get caught up in the rush to fill your garage! 🤣 What a good thing 😉😉😉, I for one am a fanatic and would like many different brands, many different shapes and many different sizes, but I have to admit, I blur into collecting not needing!
I love this hobby and what I want is to keep as many people as possible lovingly attached to this art. Saying: buy yourself a Helvie or you will never do anything good. Without a Flexcut you will never reach a good level. I would be giving you, in my opinion, in your hands a recipe for disaster.
You will commit a lot of money, try, and simply because of your inexperience produce a rough object. At this point the step of thinking I have the best knife in the world and I have done just that may lead you to disappoint yourself, perhaps even to give up. Worse still is to blame the knife for faults it does not have.
I recommend starting from the bottom, even with just a knife. See to it that it is not dangerous, that it is comfortable, that thanks to a thin blade it cleaves the wood well to reduce fatigue. Give yourself everything that can make you start comfortably and get a worthwhile experience out of it.
The fact that you then see yourself improving as you gain experience as you go along will suggest that you also refine your knife selection, only then will you come to discover the truly best woodcarving knives!
---
In this article I have suggested the following products: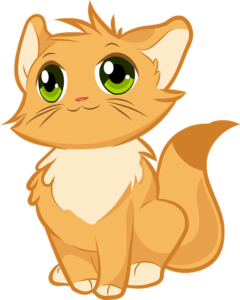 Join the Facebook group!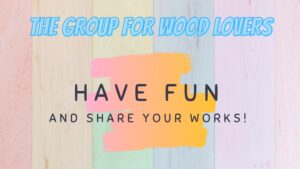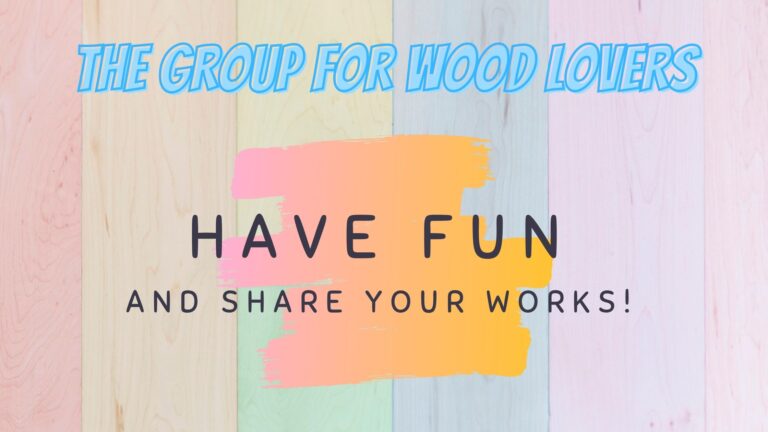 You can share your work and find new inspiration!