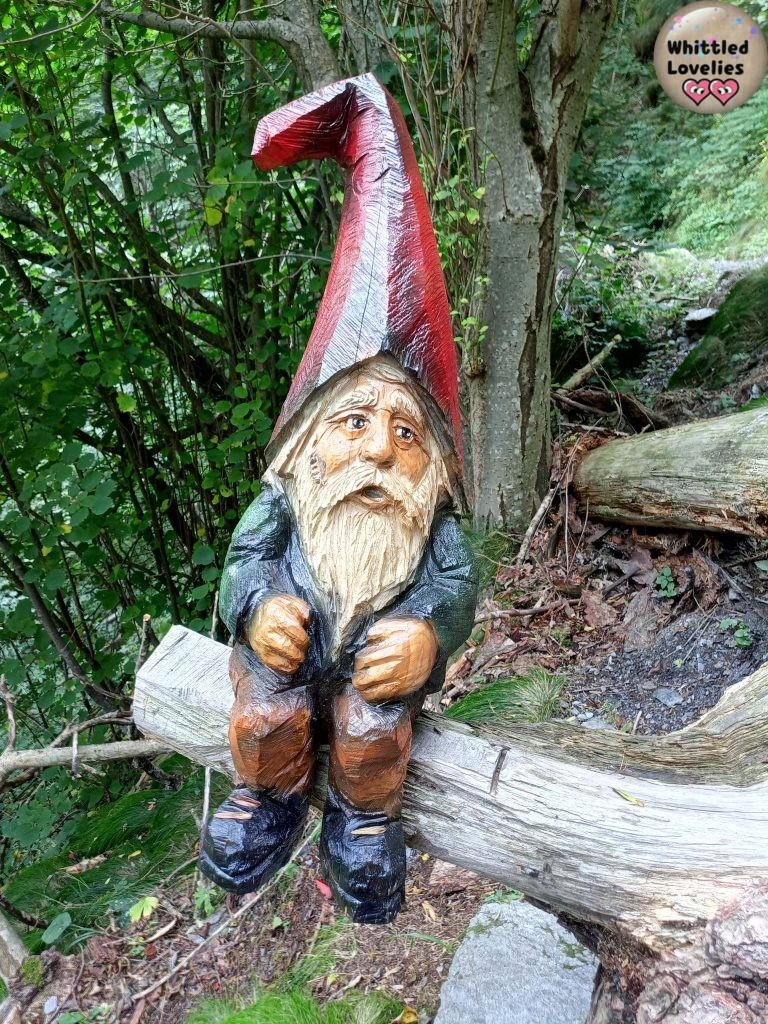 The gnomes path: discovering the Maira Valley
Published on May 13, 2022 – Reading Time: 11 minutes
Hello everyone and welcome. How about looking for inspiration while getting some healthy exercise? I have found a fabulous trail for you, a walk among the gnomes and fantastic woodland creatures: the gnomes path in Maira Valley!
But first a little mea culpa…. 😔
I had set myself a time limit and put out one article per month. As you may have noticed, the remaining days counter, which is on the side for those who read me from the web and at the end of the articles for those who prefer to use the phone, has been stuck at zero for a while now. This is because it is one thing to be organised and another to be where life takes you!
Due to countless setbacks and work issues I unfortunately think I won't be able to keep to my schedule, but don't despair! 😉🥹 In the autumn I will, I hope, be more punctual and maybe surprise you with some nice news! 😄 But back to us!
Today I take you to the Maira Valley, Piedmont, Italy, in the rich province of Cuneo (Cn). This valley is crossed entirely by the Maira river and borders France, although it lacks a good connection with it. Although it is not one of the best known in the Cuneo area, it contains several natural, historical and scenic wonders that are worth discovering!
Touring the Maira Valley
As we explore the valley, it is worth making a stop at Villar San Costanzo (Cn). Although it has nothing to do with wood, here you can witness a special phenomenon. In fact, in the Ciciu del Villar Special Nature Reserve, you will be fascinated by many rock formations that take the shape of mushrooms with erosion.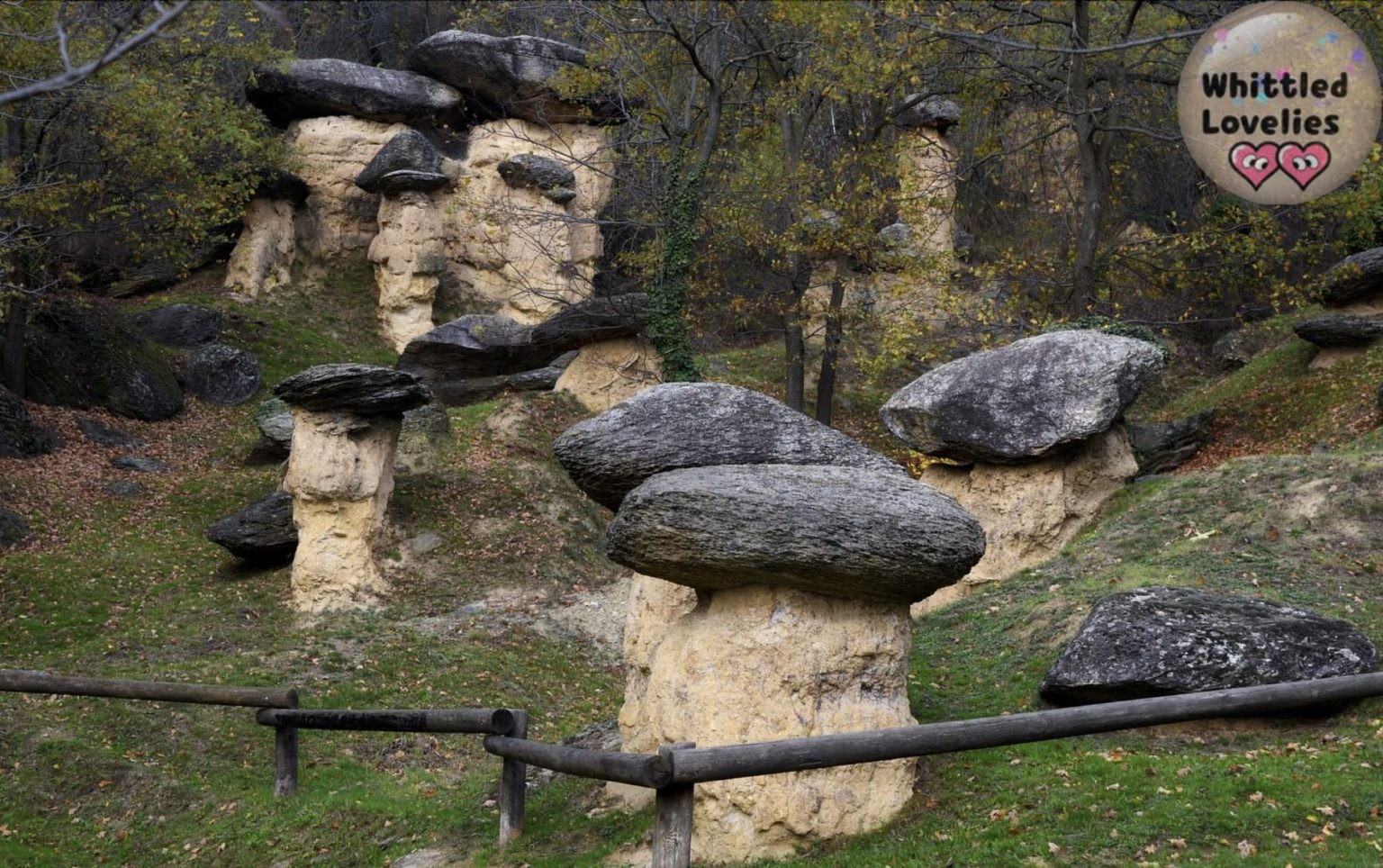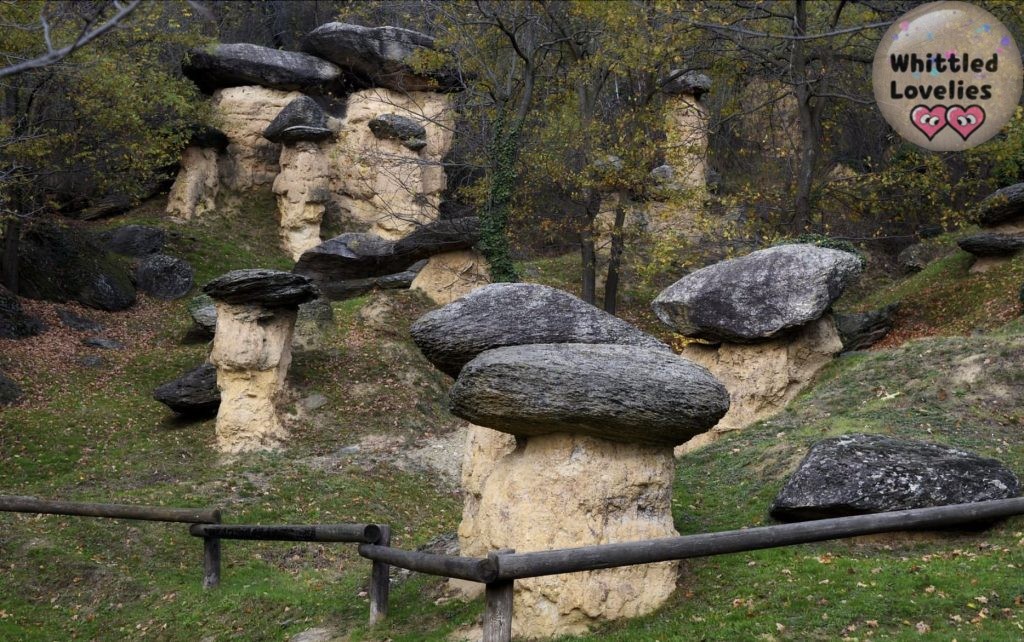 The admirable initiative of the villages and hamlets of this valley has been a reasoned and intelligent use of the land. By creating attraction-rich routes, catering to sports enthusiasts of both trekking and mountain biking, they have brought life and economy back to these forgotten hamlets, which more than others experienced emigration and were progressively abandoned.
With a simple Google search, you can find several routes, more or less challenging, with different themes. But also divided by type, like more suitable for trekking, hiking or MTB. The one I want to tell you about today is, of course, oriented towards woodcarving! Our favourite sport! 😇
Along the lines of the trail described in the article: 'The whittler does not go on holiday', this one also has a unique woodcarver who created all the works you will see displayed on the trail. He is the chainsaw carving master Barba Brisiu.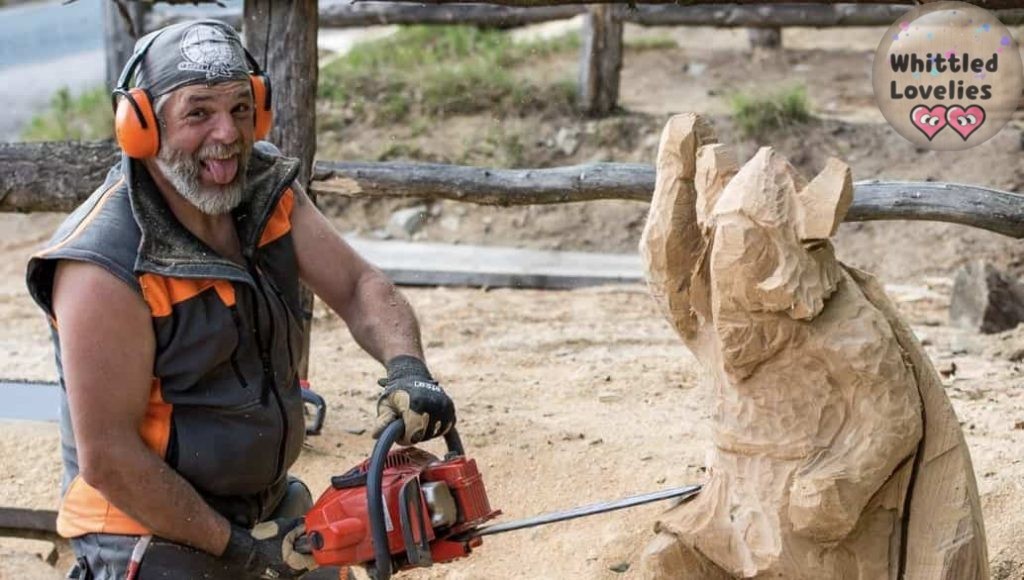 If we can admire these works today, in this splendid open-air museum, it is of course thanks to master Barba Brisiu, who with magical inventiveness and skill was responsible for producing a considerable amount of sculptures.
But most of all we can say thank you to the volunteers, first and foremost Ivo and Giancarlo, who came up with the idea, took care of the installation of the sculptures, and periodically maintain the works and the trail. All this to date without any help from public organizations…. 😳😰
This mix of people, passion, hard work and dedication has created the great attraction of the 'Remo Einaudi path' in San Michele di Prazzo (Cn).
The start of the gnomes path
Once you reach the tiny village of San Michele di Prazzo at altitude, you can leave your car near the church and continue on foot. Since it is a loop tour, it is not so important to leave the car before or after. If you wish, you can climb up to the next hamlet, also because in the first stretch, on an asphalt road, there are few sculptures. You could thus avoid a little bit of climbing, but in any case you have to do it at the end if you want to reach the car again! 😂
Near the church, the first of many gnomes appears, showing us the way. The presence of statues of gnomes is so incisive that information on the path can also be found on the web by searching for it under the name: the gnomes path.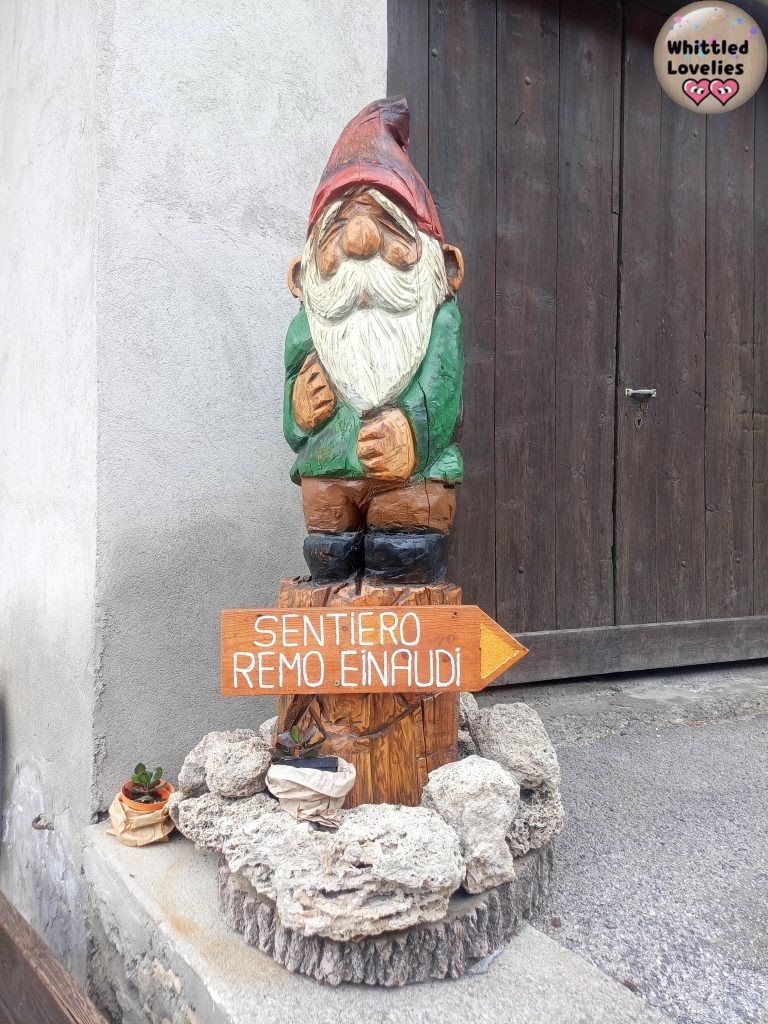 In about 3 hours the entire route can be completed, the difference in altitude is approximately 260 metres. It is accessible to everyone, young and old, although obviously, as it is an easy hiking route, it is not possible to do it in a baby carriage or with a wheelchair. Personally, I do not recommend it in winter, even in periods without snow. There are a couple of points that could be unpleasant with ice.
After passing the centre of Borgata Chiesa, where we left the car, we continue on foot along the asphalted road until we reach Borgata Castiglione, which is already at an altitude of 1470 metres. This hamlet is an enchantment of local architecture. In the past, the river current was used to power the mills and you can see an old one right at the entrance to the pedestrian-only path.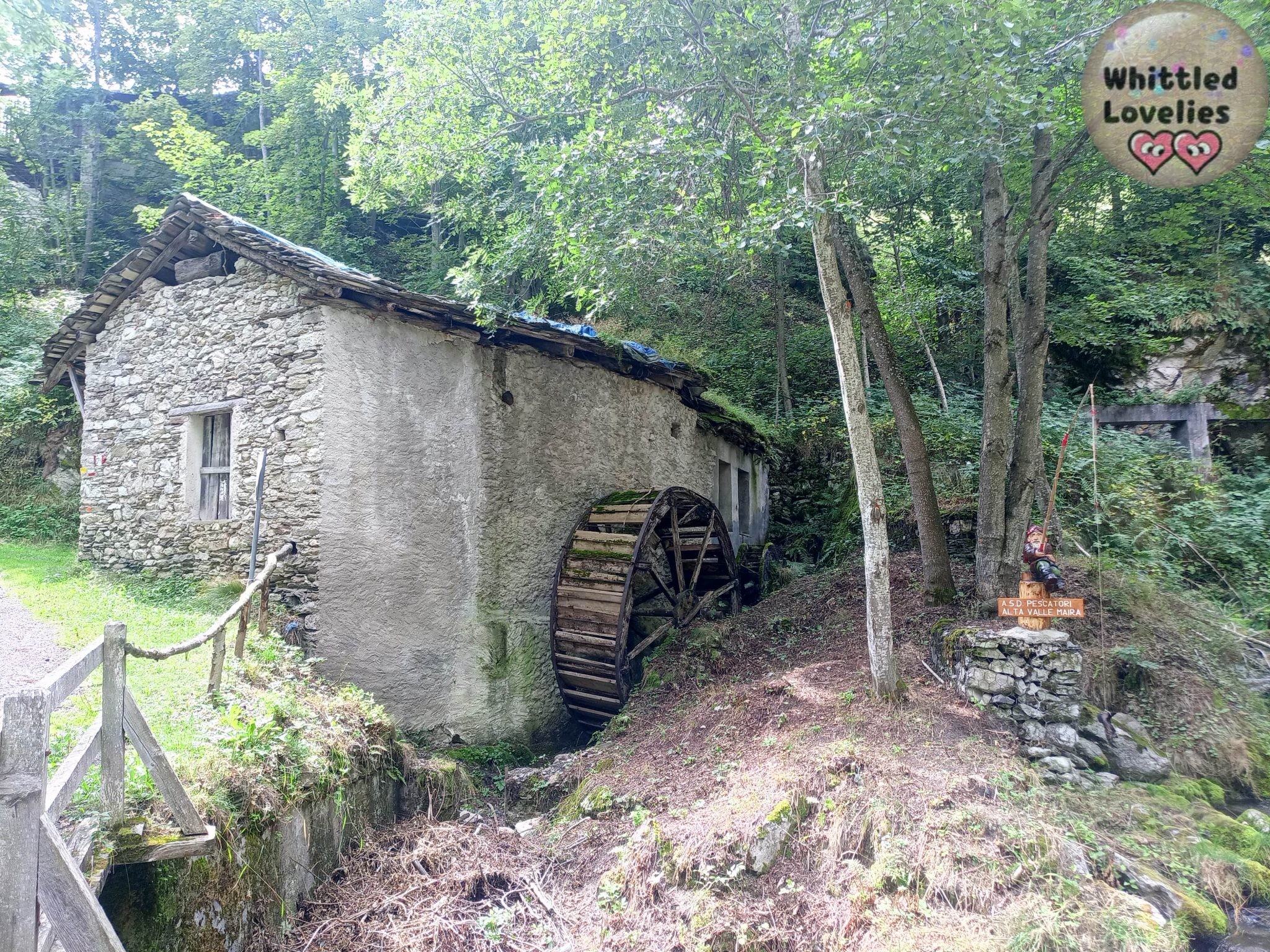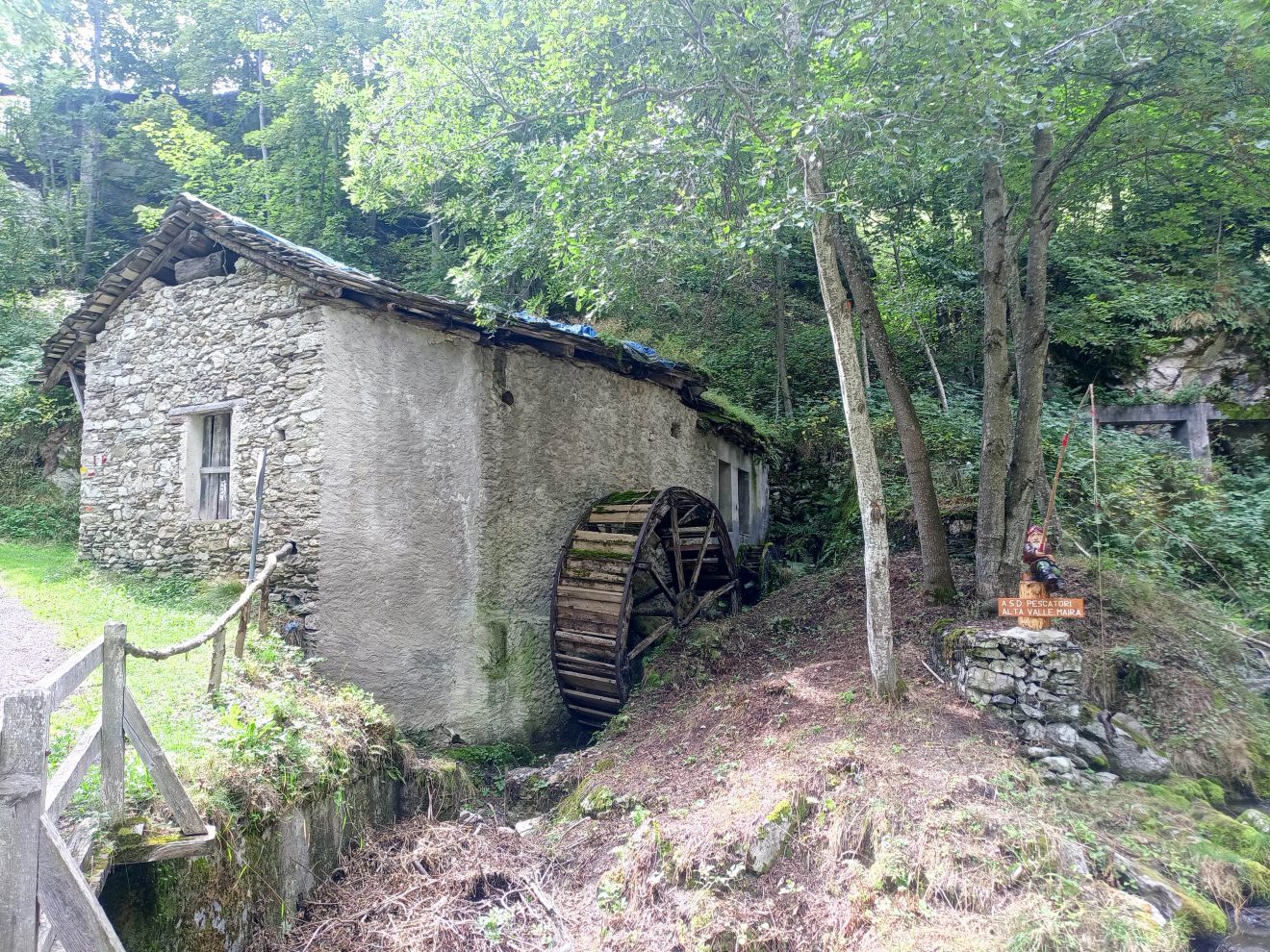 From this point, a riot of sculptures begins. Ever-present are gnomes of various sizes, but also woodland animals and woodspirits. It becomes a beautiful game to carefully observe not only the views and vistas, but also to find each animal sculpted and placed in its natural habitat.
As you can see from my photos, and here of course I have chosen only a few so as not to spoil the surprise for you, everything has a playful and fun aspect. The route is enjoyable throughout and the presence of artworks is really incisive, you will not be disappointed!
Almost halfway along the route, you arrive at Borgata Chiotto (1284 m). According to local tradition, here you can find a quality of pears said to have been brought by Spanish soldiers. In the past, excellent cider was produced here. Thanks to this progressive and renewed interest in this valley, some small local businesses are reviving this tradition.
At Borgata Rabiera our tour comes to an end. It meets another path, the Hemp Path, and ends with the visitors' book. A nice habit. The book is enclosed in a beautiful casket of course made of carved wood, don't forget to sign it!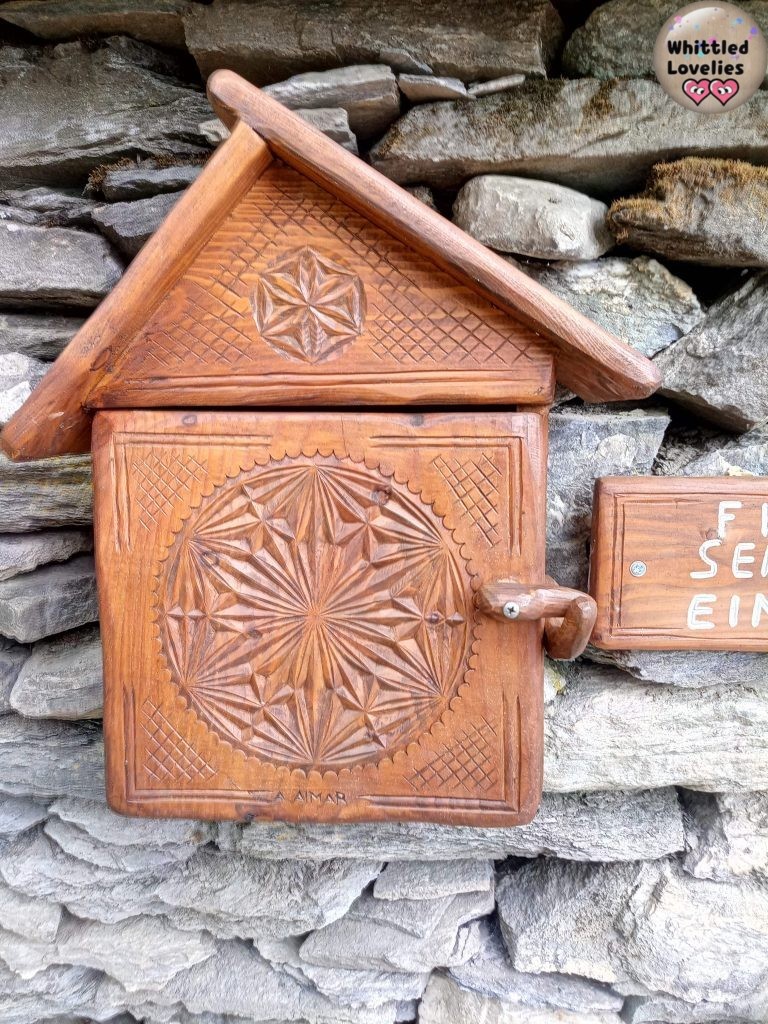 Having left the charming hamlet and seen another visitable mill inside, there is only the toughest bit left to tackle. One must climb back up to Borgata Chiesa, where I suggested you leave your car. The piece is short but intense and perhaps you suffer it the most because none of the friendly gnomes accompany us on the ascent. 🥲
Share the admirable initiative!
And we are at the end of this article as well. I hope I have helped to boost tourism in this valley that it really deserves. Also to say a special thanks to the people who have worked hard to create this experience and make it usable for everyone.
Municipalities, regions, entities, which really want to keep tradition alive and enhance the territory are to be publicized in every way. In Italy especially. We have a generous and beautiful land, all it would take is a little effort and living there, not just coming here on vacation, would be a wonderful dream.
Let's hope for a future full of new trails, if they are wood and carving themed trails, guys, what more could we ask for!!! 😉😉 See you soon, let me know if you ventured out to do this gnomes path and how you found it! Bye!!! 😘😘😘
Ps. I also leave you this youtube clip, which shows the route in its geographical extent for more precise references as well. The rights to the video belong to the author.
---
Join the Facebook group!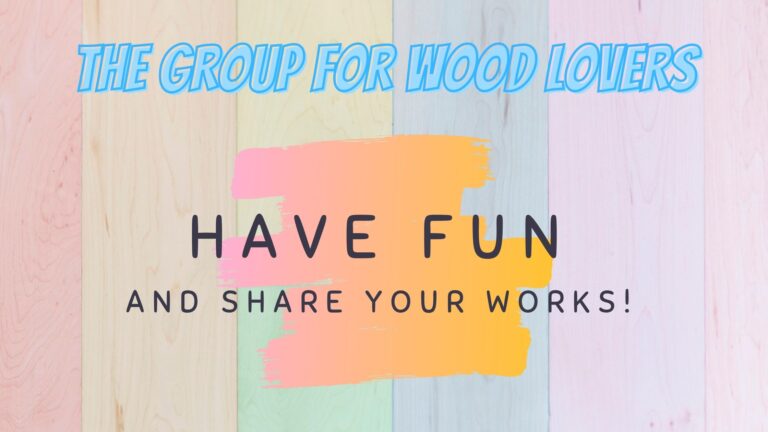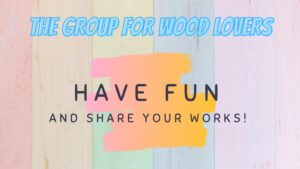 You can share your work and find new inspiration!