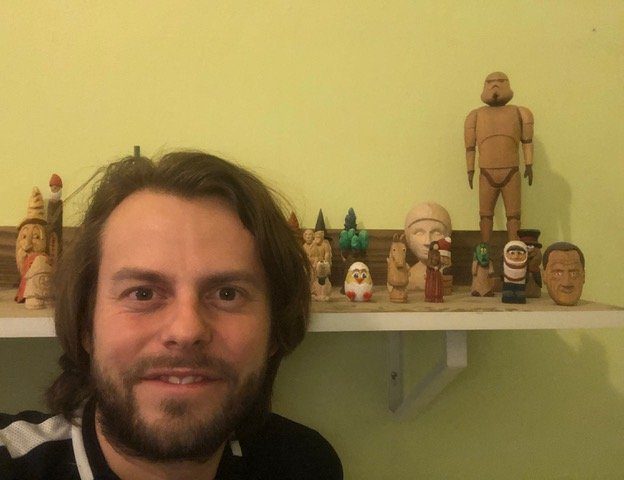 Home Wood Spirit: the interview
Published on February 13, 2021 – Reading Time: 9 minutes
Hi there! Today we are raising the bar even higher for the great woodcarving professionals. After Loeffel Suse and Cousing Jack Carves, to my great surprise and satisfaction today I have the pleasure to publish an interview with a Czech guy who has opened a YouTube channel since 2017 to meet the difficulties of all of us beginners and help us enter the magical world of carving.
I would have gladly created a suspense but the title betrayed me! We are talking about Vladimir Home Wood Spirit. An icon for many lovers of the sector, his youtube channel boasts 620,000 views and by scrolling through facebook or instagram you can often see replicas of his characters.
I myself tried to carve one of his best-loved characters, the labrador Max, creating, with a few modifications, my border collie Amelie. When I found the tutorial, I was won over by his sympathy and I went to see his website and discovered that we have a very similar vision of this hobby.
First of all, respect for nature and especially traditions, as well as the other key point that is dear to me: using wood as a Zen meditation, stimulating the innate creativity in each of us and giving the world healthy and natural objects that contain the basis of life itself: love.
Wood Carving and Whittling is fun and creative hobby which provides us with hours of very well spent time. It also brings us pride and deep satisfaction from what we make. It has the power to connect us with our ancestors who, kept this tradition and craft alive for more than 11000 years from first civilisations on Earth. Beside all of that above we make really nice handmade gifts, which are usually the most appreciated and makes the recipient truly happy. 
Hi Vadimir, I've peeked at your social networks and I've seen that you were lucky enough to learn from your father, a professional woodcarver, can you tell us about your first steps? Do you think that if you were born in a family without these traditions you would still have been fascinated by them?
First let me thank you for your offer of this interview. I really appreciate it. My very first steps were when I was about 4 years old. I remember lurking around my grandpa, who was whittling nativity figures under our wallnut tree. It is just a glimpse of memory, but it is quite strong. The second one was when I was around 10 years old. I wanted to make myself a wooden knife. The only wood I could find was a birch stick and I have tried to carve it with 10 inch long kitchen knife. 🤣 Haha what do you think have happened? Yep I cut myself quite badly right into my nail.
I had also a great teacher on basic school who is one of my best friends now. He inspired me a lot to be self thought.
I personally believe that the surrounding affects us a lot when we grow up. But it is not a key to have passion for wood whittling. I have seen many people who have never done any woodwork and instantly fell in love with it. Actually it was most of them who have tried it. 🤣haha. It si very addictive and that's great. People should slow down in this fast paced world we live in.
---
from this how did you come to think of opening a YouTube channel? Did you expect it would be so successful?
My brother has one Youtube channel as well, so he inspired me a lot. I didn't have a clue it can go this far. My first year was quite slow (in terms of growth). Even though I have saved up some extra money to be able to quit my job and fully dedicate myself to it, I consider it as a learning rather than success. First year I had 352 Youtube fans. Everything have changed when I made my first video with Wood Spirit. I got about 1000 new subscribers in 2 weeks. This was a turning point. We will see if there will be another one. I wish, 🤣 haha.
---
In your videos we can see that you go to your studio, is wood carving your main job? Can you make a living from your art?
Well it seems probably better than it really is. There are still some people I can teach with private online Skype lessons and I really appreciate it. I was more hoping that people will like the "confident whittler" online course where are 11 videos (5 new step by step projects and 6 e-learning videos). This course saves tons of time and money because clears all the beginner's confusion, but I am probably not good as sales person 🤣 haha.
This is why I work partly as a graphic designer and teacher. I enjoy both, but I would be grateful if I could help people more and get such a reward I could do it full time.
---
Have you travelled, or confronted with other cultures to develop your knowledge? Does the Czech Republic have an important tradition in this field?
I have lived in New Zealand for about 5 years. I am also a resident. New Zealand has great and strong Maori wood carving tradition, but basswood is almost impossible to find over there. I have met many people from many countries and traveled a lot. I am very grateful for it, because I am very open to pretty much everyone and can understand their behaviour. Great experience.. Just home is home and I like it, because we have heaps of basswood. It is also our national tree. We have very strong wood carving and whittling tradition.
---
What is your approach to a project? Do you create a clay model every time or do you use other methods?
I try to draw more now. I was very impatient at earlier stages, but drawing actually speeds me up. It is faster to draw it than carve it and this is what I did before and spent heaps of time just carving without knowing what I want. So now I draw untill I am almost satisfied, then I make a clay model and then I carve. I love to get from the wood what I feel is nice and neat and then do the step by step process. I love to make the steps almost geometricaly clear and easiest to get to the result. And the show it/teach it. My grandfather and his dad were great teachers as well. I do not concider myself as a top quality carving professional, but I like to make things clear and teach them to others.
---
We conclude with a customary question, what suggestions do you want to give to beginners?
Wood carving and whittling is a fun and relaxing pastime. Do not stress yourself or comapre yourself with others. Just enjoy, connect with wood and nature, slow down and relax. Wood will guide you.
---
Thank you Vladimir for your availability and your interview, I hope it was useful to many. I also hope that I have intrigued all the latent carvers and given them the right spark to start being part of this beautiful community!
Thank you again for your interview Sara and I wish to all of us to have a great time with our knives and pieces of wood.
---
Vladimir
Do you like interviews? Don't miss the interview with Cousin Jack Carves! See you soon, bye!
---
Join the Facebook group!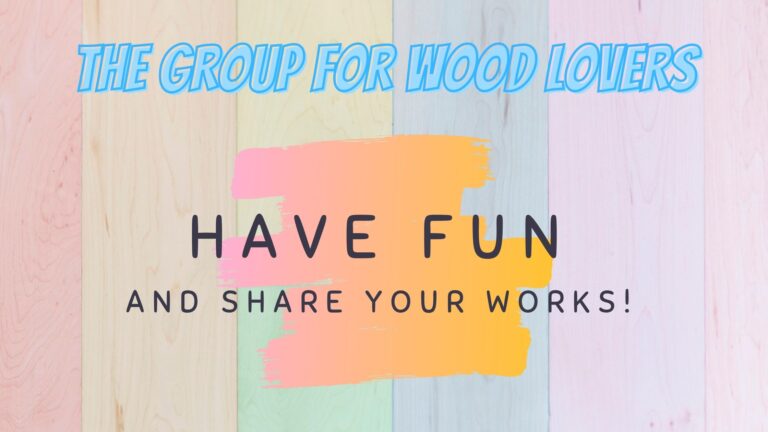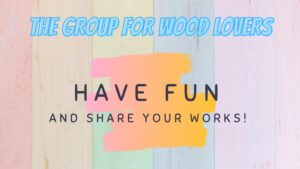 You can share your work and find new inspiration!