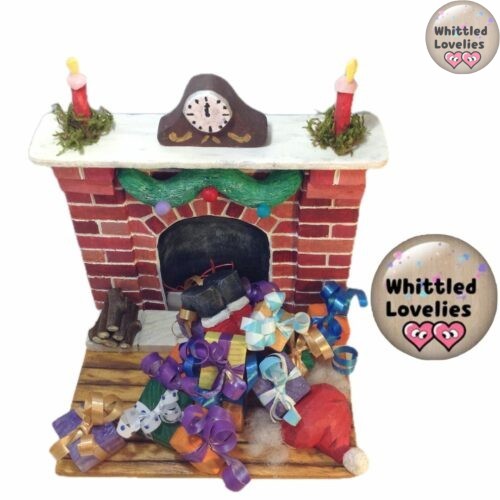 Tutorial:
Christmas 2023
Published November 15, 2023 – Reading Time: 16 minutes
Guys this is it! Just over a month and it's Christmas, have you sharpened your knives yet? Are you ready to discover my Christmas 2023 Tutorial? Come on Let's get started right away!!!
Two big misfortunes happened this Christmas, the first: Rudolph will not be with us, he was busy with other projects and left his master alone to manage the tiring Christmas night 🤣. The second: Santa slipped and flew to the ground overwhelmed by the weight of all the presents 🤣🤣.
This is the scenery I went to recreate for this Christmas, a nice diorama, made up of many elements, but all very simple, so that anyone who wants to try their hand at it can easily succeed.
All the complicated parts like carving the Santa Claus, I have simplified them to the max, you have no excuse! All you need is a couple of days of effort and you will bring home a splendid result at whatever level you are in whittling and woodworking.
Let's see now what we need for this project!
This is a very versatile project and lends itself to different kinds of approaches. In addition being rich in details you can indulge in inventing new ones of your own, or adding, removing or replacing the ones I created.
Watchword: FANTASY!
Taking a tour of my workshop, I looked through the scraps of other crafts for all the materials I needed. As you know if you follow me, I place a really high importance on recycling, and when I can make a whole project, like this one, with only scraps I feel so happy!
This time it was simple: a board, a piece of plywood and several pieces of wood resulting from past cuts with the band saw. That's basically all you need. In the drop-down menu above I have left you the measurements of my project, it is up to you to use measurements in proportion to the materials you decide to use, whether bought or recycled.
Let's start with the fireplace!
Sketch out a design of how you want it shaped. I opted for the classic exposed brick, very simple and straightforward.
As you cut out the piece needed to create the fireplace, anticipate cutting a strip of the same size but only a few millimeters in height-this will be the lower threshold of the fireplace!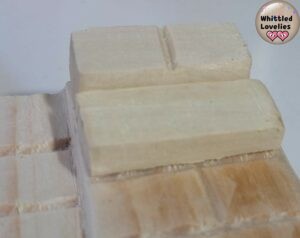 Here you can use two methods: if you have enough materials, you can apply the raised parts of the side rails and bricks holding the shelf to the board. Otherwise, proceed with knives or gouges to create the indentation between the mouth and the sides. A few millimeters will be enough to create the indentation effect (in my case it is 3mm).
I created the under-shelf bricks separately and applied them with glue because I wanted them to have a very pronounced overhang. They are 0.5 and 0.3 cm thick.

Once the mouth of the fireplace is drawn, proceed to create a rounded cove that must eat up roughly half of the available wood to create the three-dimensional effect. Nothing was better and faster for this task than using the dremel with the sandpaper attachment.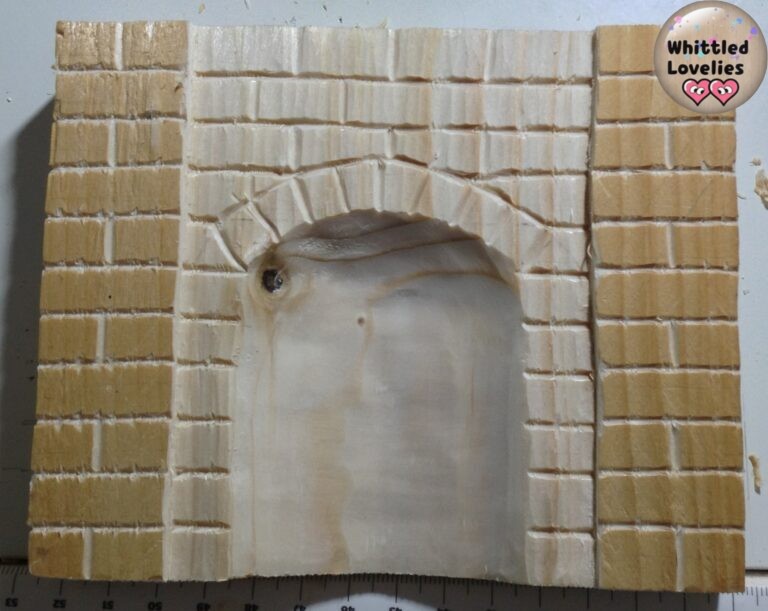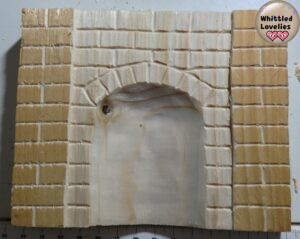 All that is left to do at this point is to draw very precise horizontal lines running across the entire fireplace. And from time to time draw vertical lines dividing the small and large bricks, thus creating the wall effect.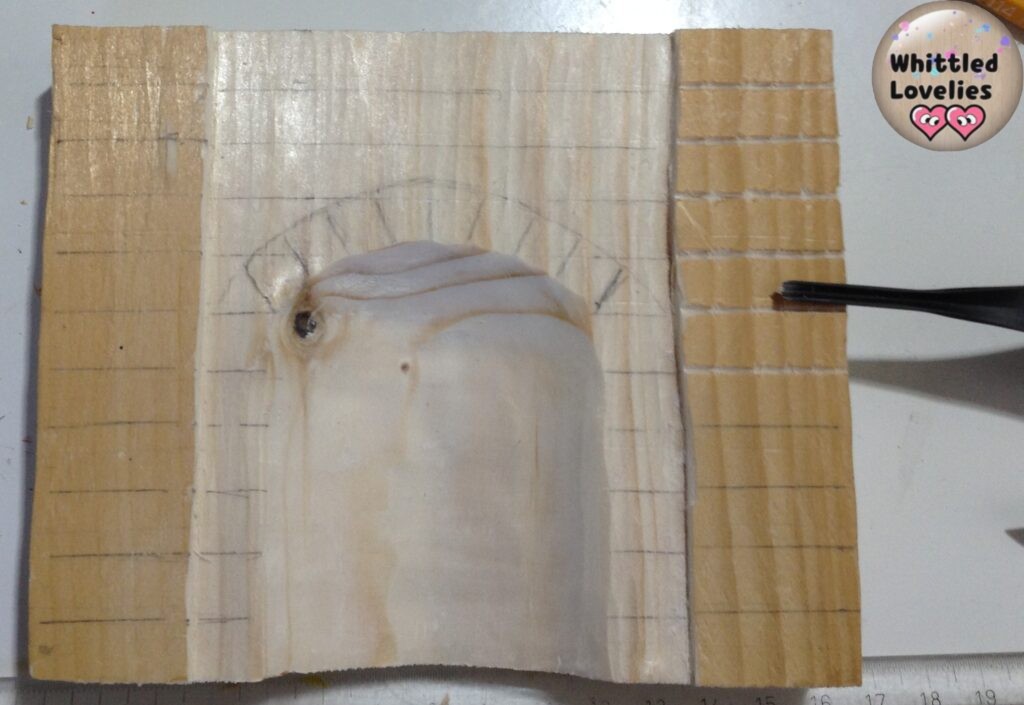 With a V-gouge, the marked lines are followed and the fireplace is ready to go to the color stage, so we set it aside and proceed with the rest of the components.
The floor
To create the floor, we take the plywood board and cut it to size. To the eye it is exactly the same footprint as the plywood board that serves as the fireplace. We bevel the edges to prevent it from breaking and make it look nice.
While we are here, cut off one more piece and have the top threshold of the fireplace ready immediately, bevel its edges as well, and let it wait.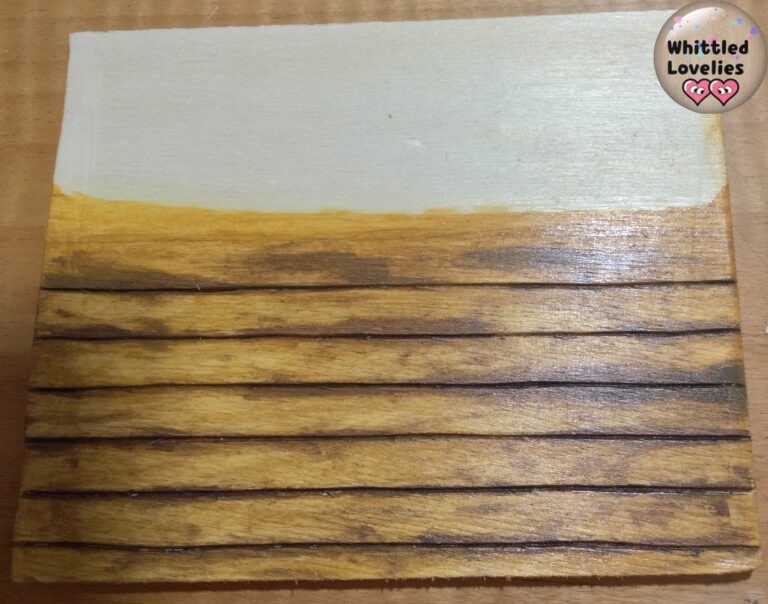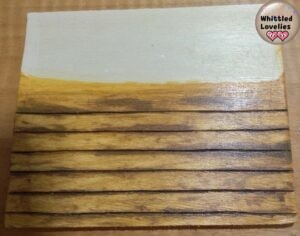 We mark the footprint that the fireplace will have and its bottom sill, and then about halfway down the sheet of plywood we begin to make the horizontal lines that will recreate a wood floor. We then proceed in the same way as the bricks and follow the lines with a V-gouge.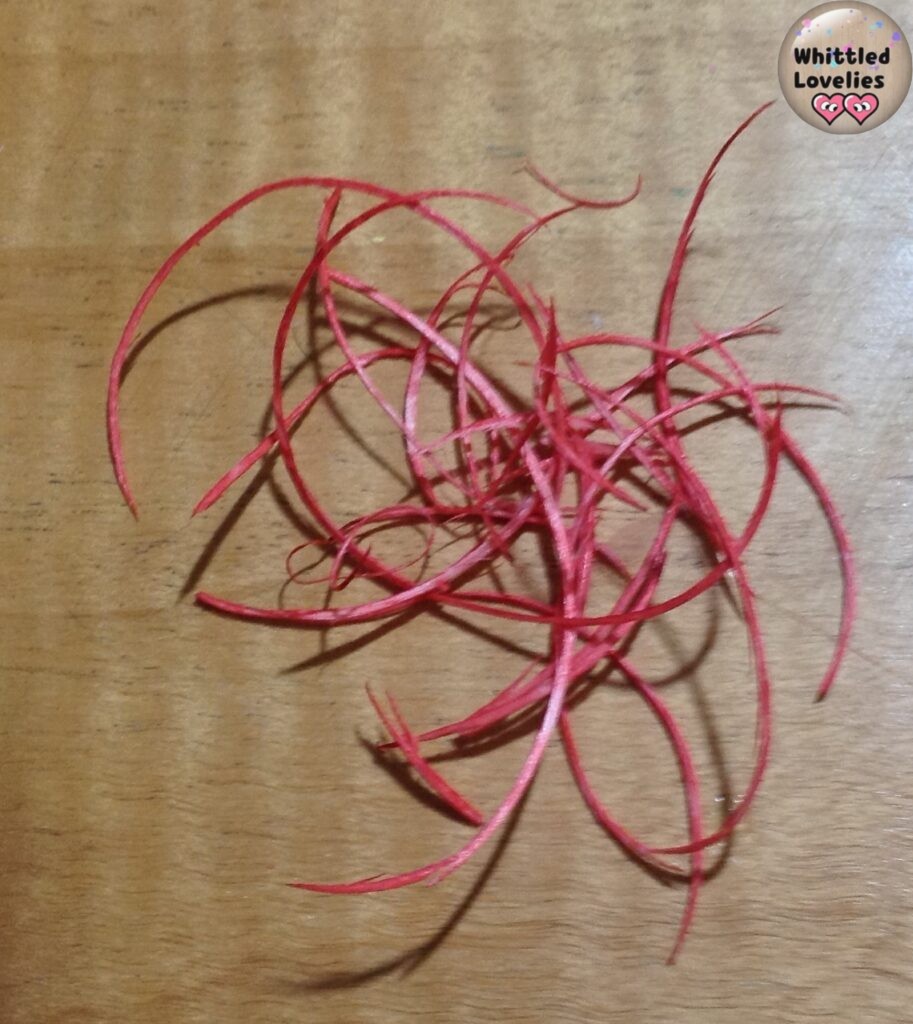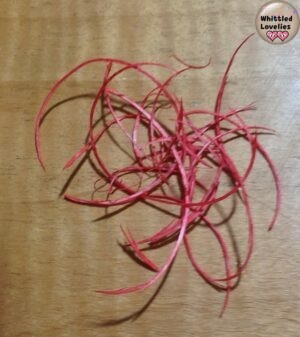 Keep all the very thin curls of wood that come out of this operation, we will then need them to create a fire effect in a very simple and effective way.
At this point the floor is also ready to move on to color and we set it aside as well and move on.
Christmas gifts and accessories
Christmas Gift packages: With a wooden lath and a band or scroll saw you can easily create cubes or rectangles of various sizes, just cut and you're done. About ten will be enough for the project but if you want to make a few more they will make beautiful decorations for the table or your Christmas gift packages! Real ones!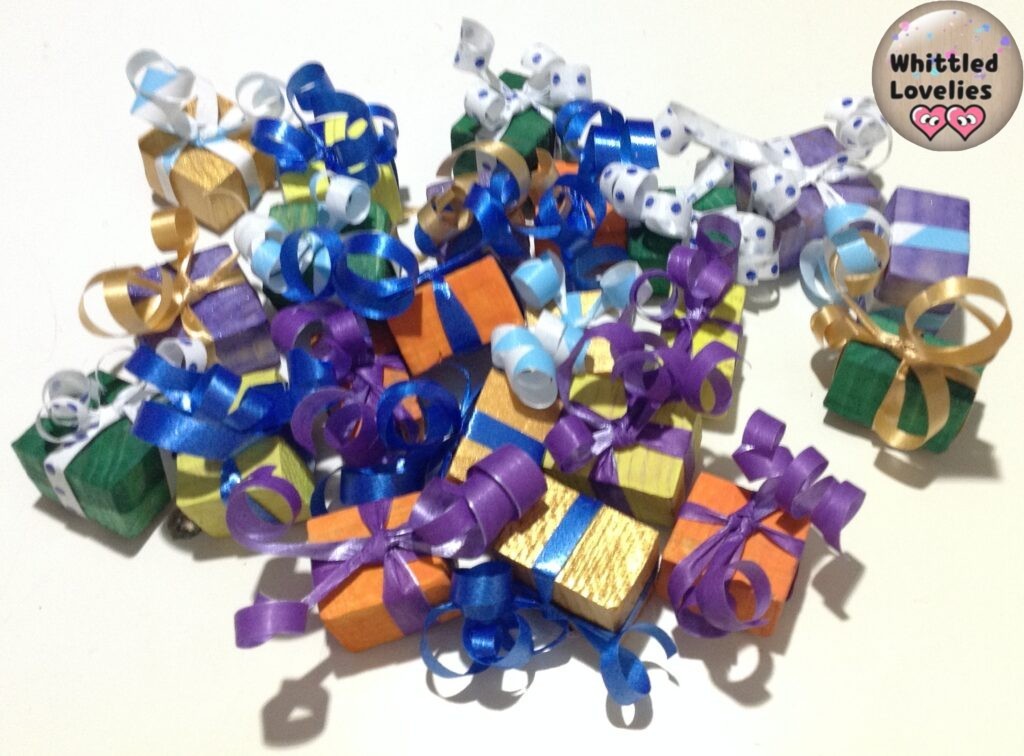 Candles

: two twigs stripped of their bark, two scraps of wood whose corners you smooth out with a knife, two pieces of a giant fireplace match–whatever comes into your hands can be just the thing to make candles. Experiment with it! What about the flame? Look at your work table, surely some chips will lend themselves perfectly to the task!
Clock

: I chose a super classic, antique shape of wide mantel clocks. But why not do framed photographs? Or other objects that fit on your mantel? Again, with a scrap of wood and a few knife strokes you can create almost anything!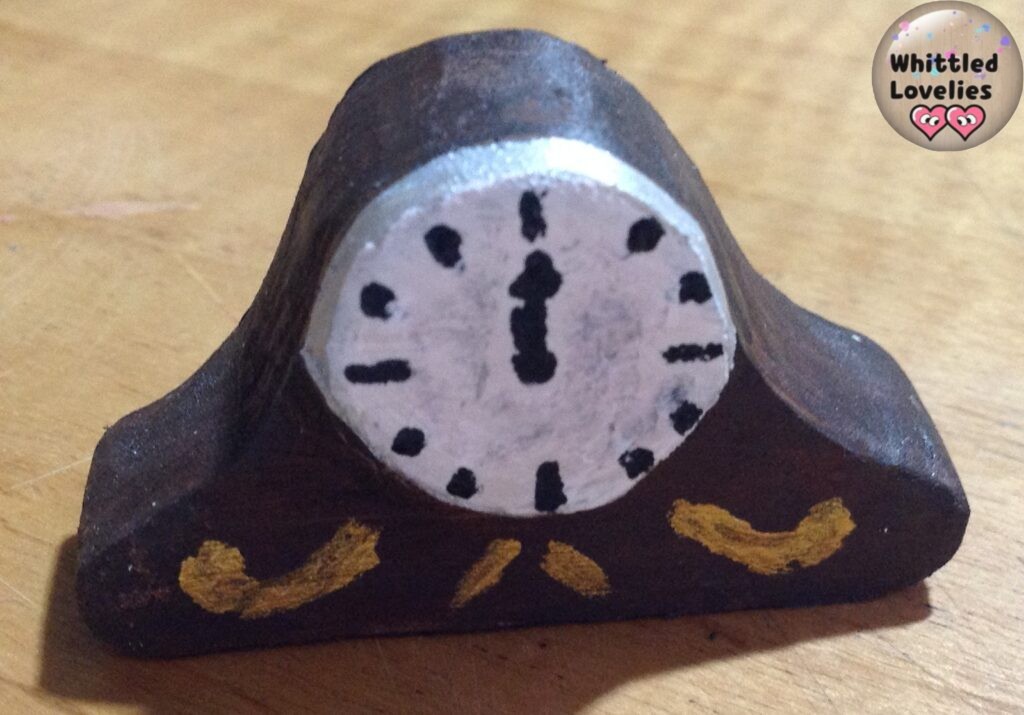 Garland

: Draw a snake, or imagine joining two large, very open U's, make it nice and chubby and with smooth, sinuous motion. Flick it out with the knife, rounding it out nicely. To create this beautiful "wiggly" effect protect your non-dominant hand very seriously, and with the other hit the wood with the V-gouge. Random blows, a little long and a little short, aimed at creating little holes and little raised strips that look just like pine needles.
Brazier grate

: I used a very thin scrap of wood that was the size I needed. It is important that it fit inside the cove so that it can then be blocked from the threshold in front of the fireplace. I rounded it with sandpaper and made it as thin as possible. Then with a gouge and knife I created the holes.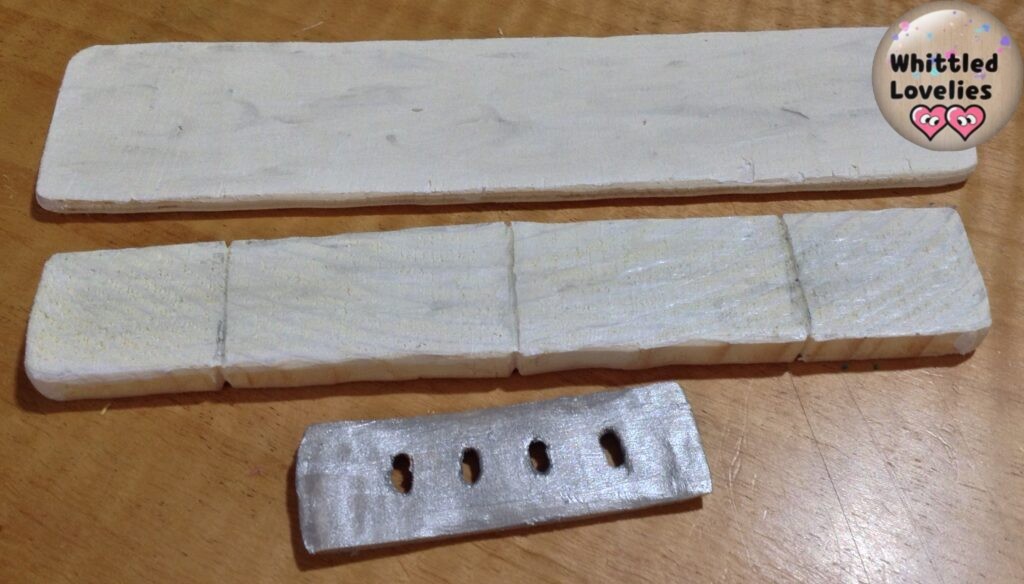 The Santa Claus
As I anticipated, I took every possible advantage of minimizing carving, in fact with two very simple pieces we can create the illusion of Santa Claus without having to carve his face or body.
I got the idea for the legs from the very famous Santa Claus who gets stuck upside down in the chimney. From a rectangle of wood you mark the middle and begin to separate it with the V-gouge. This and rounding with the knife will be enough to create the legs.
For the feet just make a stylized shape of boots, and carve them out of the legs. Think of having an L in your hands where the short part is the feet and the rest are the legs. Although it won't be that accurate don't worry, you can see little popping out so even a sketchy shape will suffice.
The hat is even simpler. Take any drawing of a Santa or a gnome and draw a hat. But no difficulty here, the shape is practically 2D just follow the drawing and with a knife thin it out. Start with a tall enough piece of wood that gives you an opportunity to be rounded to create from 2D a 3D effect.
Cold porcelain help me!
At the moment when the going gets tough here comes my savior, cold porcelain paste! This is not the first article where I tell you about it, so if it is still new to you, the recipe and preparation of cold porcelain can be found in this article.
This unalterable and colorable, extremely versatile paste is super easy to prepare (you can find the pictures of the preparation at minute 3.50 of this video on the blog's Youtube channel). All the times when it would be extremely complicated to create objects, you want also because of the really small size, she saves me.
In this case, the balls of the wreath, the pom pom on Santa's hat, and the wax melting from the candles are all made by this method. Very fast and effective, with no need for an oven, just time to dry. Try it and you will see that you can't do without it anymore either!
Color stage
Guys this is it, you have proudly created piece by piece everything you need to make up this cute diorama. Now all that's left is to color it all with acrylic paints.
Here I want to leave you free to let your imagination run wild, but I will give you some small suggestions on a technique that you may not have attempted yet.
To variegate the packages naturally without having to perform any special feats with the colors I recommend that you take a small container put a generous dollop of color, plenty of water, and shake until the water is all intensely colored.
The important thing is that some of the color is still on the bottom. insert the pieces of wood and let them stand a few hours, after which turn them over if they were not covered by the liquid, or otherwise move them around to make them take on different shades.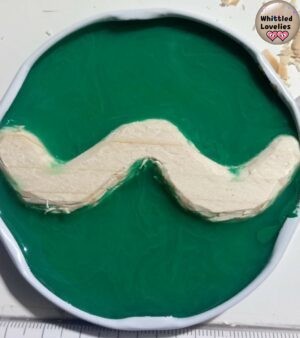 When they are colored sufficiently put to dry on baking paper and it is done. The same technique is almost a must to use for garland, for example, as a color given with a brush, even a very watery one, could break the delicate filaments.

For the garland, however, I recommend that you dilute all the color and not leave any on the bottom. The effect if not would be too loaded, and that too could damage the delicate texture. Leaving it to soak long enough makes the color perfectly integrated with the wood fibers, and the result is natural, delicate and distinctive.
Same with the floor filaments that I suggested you keep to create a small fire effect. When you have such delicate materials in your hands, it is not possible to use a strong approach as with a brush.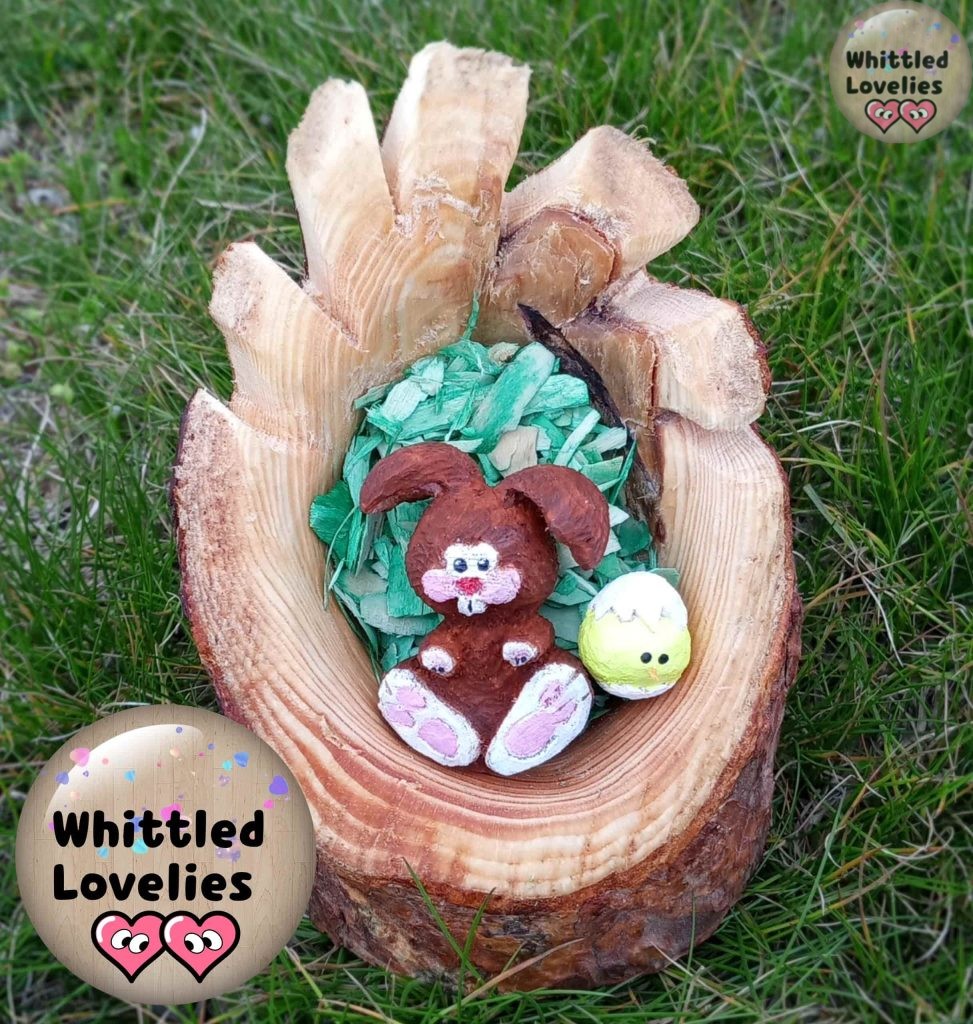 With this method you will see that many of the scraps that you normally do not use as unmanageable become easily usable and give rise to new shapes, shavings that become grass, for example, as in this photo, etc.
Let's assemble!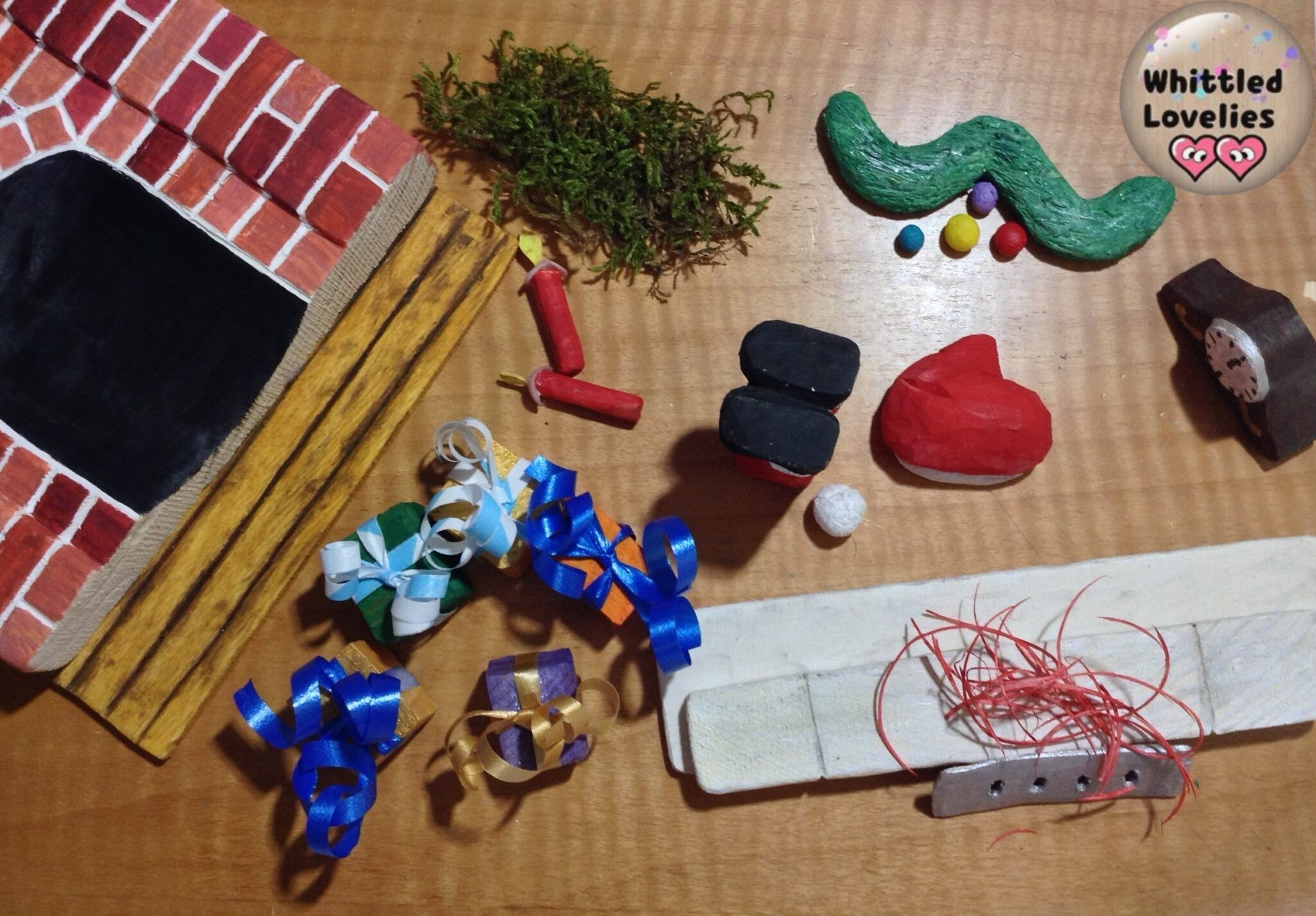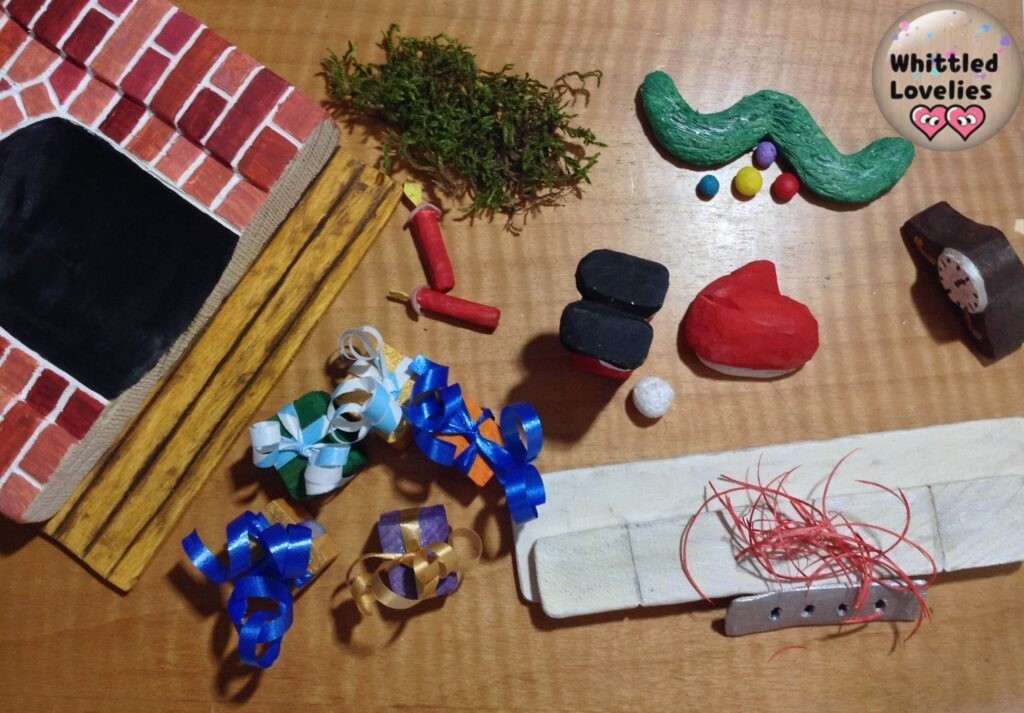 Glue the fireplace to the floor
Attach the grate to the brazier taking care it does not protrude externally
Insert the two thresholds. At the top the wider and thinner one at the bottom the other
Put the red filaments into the fireplace hole with tweezers
Glue the clock in the center, the candles on the sides, I used some dried moss as decoration
Apply the wreath and to it the cold porcelain paste balls
From a twig make firewood and glue it to the side of the fireplace
Use real gift wrap ribbon to decorate the wooden cubes
Distribute them randomly all over the floor
Insert the legs taking care that they are slanted, help yourself by leaning them against some packages
Then glue the hat a short distance away, with its pom-pom
Next to the hat I inserted the "beard" created with the inside of a synthetic material pillow
Cover body space with packages in a haphazard manner
Finished!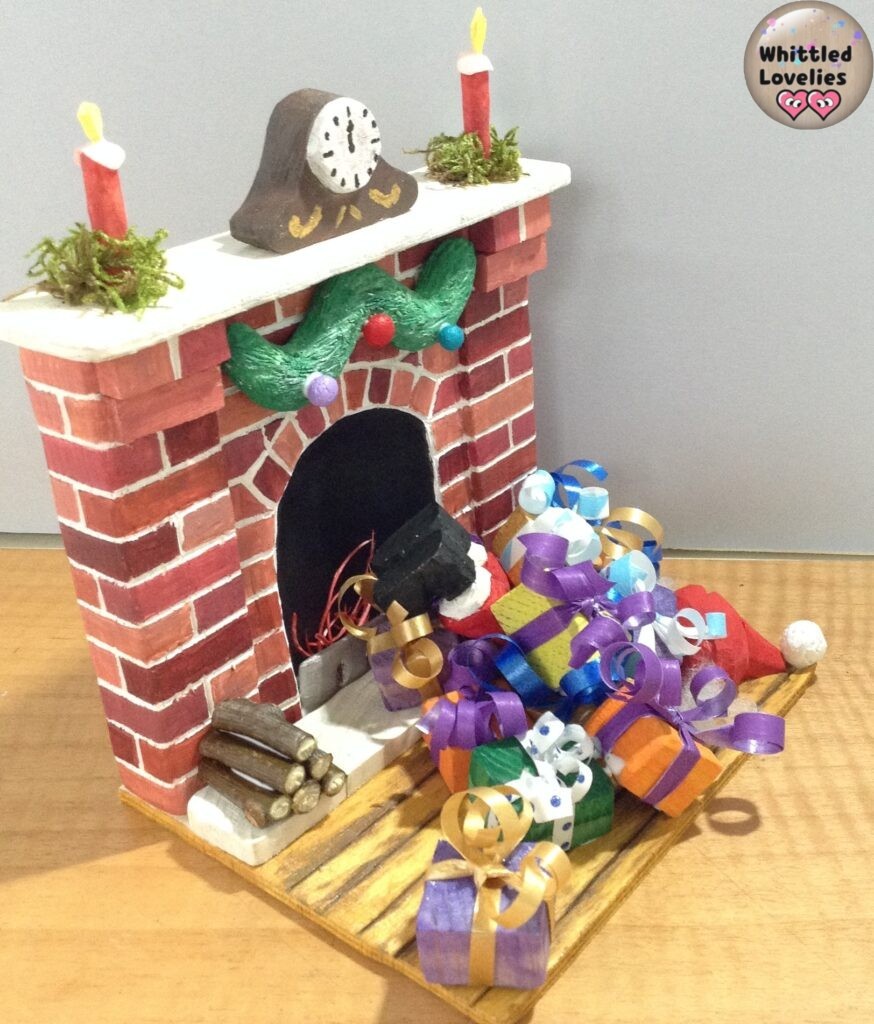 I hope also this year to have given you some good ideas or interesting information to use in your next projects. I am very happy with the result, let me know what you think!
In case you don't feel ready for this project yet, don't despair! Read and be inspired by the articles from previous Christmases! Here they are!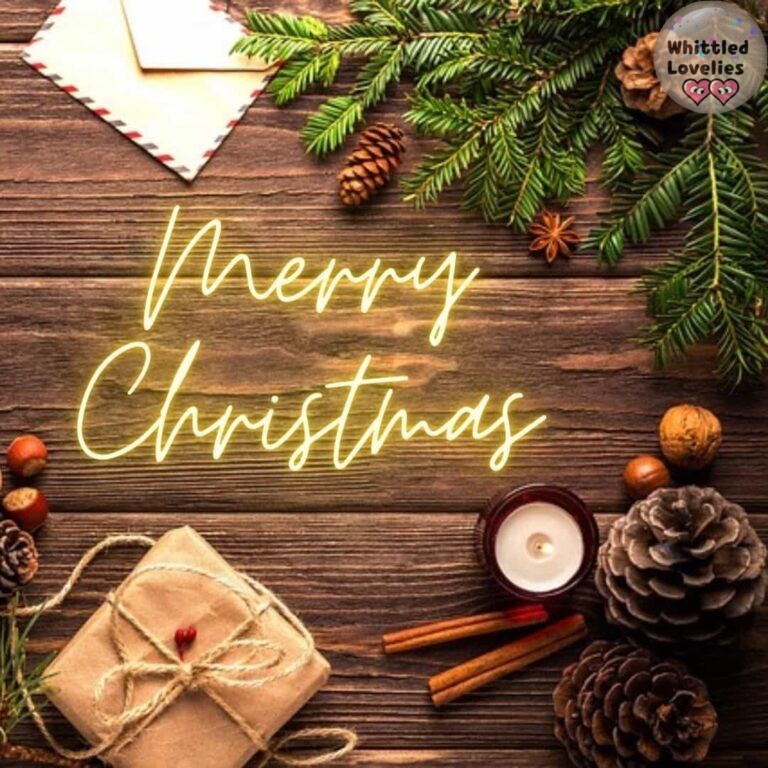 Christmas is approaching, not to be found unprepared here is a guide / tutorial on how to make simple and nice decorations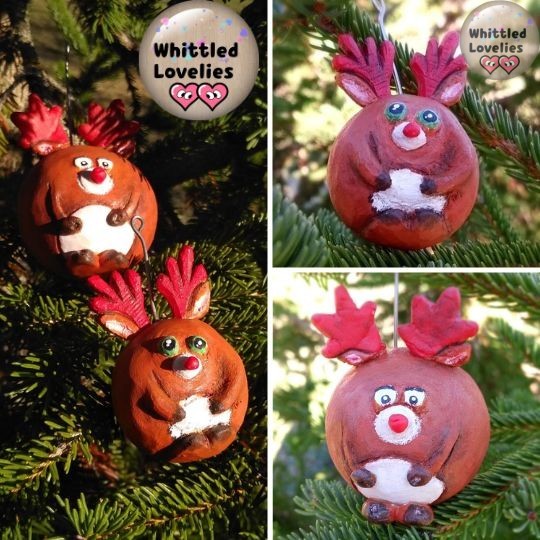 In this step-by-step tutorial I explain how to create cute and effective Christmas decorations! The reindeer-shaped balls!
And if these haven't helped you enough yet, my friend Cousin Jack Carves also made a wonderful tutorial for Christmas! This year we have all been dedicated to making cute and playful projects, I when I saw this one I loved it right away, I can't wait to try it, can you?
See you soon! Next month we are expecting Takahama's article, I am curious to see with you also her ideas for this very rich Christmas! I look forward to seeing you here! Have a fun and carefree Christmas like our projects this year!
Hello Best Wishes to you and your loved ones! 🎉🥂🎄😘😘😘
---
In this article I have suggested the following products:
Join the Facebook group!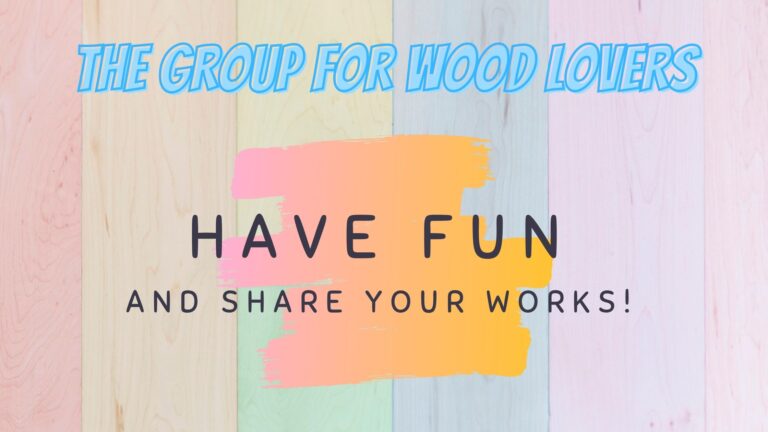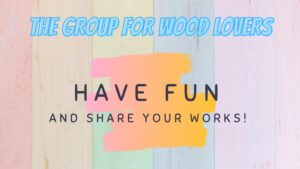 You can share your work and find new inspiration!